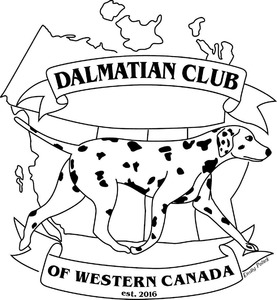 Information Regarding Membership Applications
Application, letter of sponsorship, imitation fees for new members and CORRECT FEE must be sent Membership Chairperson: LINK TO FORMMembership Application Form
Two applicants from the same household should apply on separate forms, each with their own letters of sponsorship and accompanying fee.
LINK TO FORM Membership Application Form
REVIEW OF QUALIFICATIONS FOR MEMBERSHIP:
Applicant must be 18 years of age. Junior members must have parent/guardian's signature.

Applicant must be sponsored by a Dalmatian Club of Western Canada member in good standing whose letter and signature accompany the application. ( We are happy to find a sponsor for you we have area directors that can help)

By signing, the Applicant acknowledges familiarity with and accept the Dalmatian Club of Western Canada's Ethical Guidelines;

Application must be accompanied by check or money order payable Dalmatian Club of Western Canada * Canadian Funds Only ALL MEMBERSHIPS MUST HAVE $10 Initiaion fee included. Youth membership (no votes)- $15.00 Individual Membership (1 vote) - $25.00 Family Membership (2 votes) - $40.00 Associate (no votes) - $15.00. The DCWC welcomes members from out of the area as a DCWC Associate members fees must be paid in Canadian Funds.